Decks Are IN THE HOUSE!
All backer rewards and any decks sold between now and 12/3 will get shipped out on Monday 12/5. 
The electronic version of the booklet is finished and will be available for download in the next day or 2. There is some web-coding that needs to happen first. The print version still has some additional material that needs to be written, which I'm also hoping to get done this weekend.
Older News
The tarot booklet is currently being written and will (with any luck) be available when the cards are shipping out so people who want to read our whimsical interpretations of the cards, can.
Between the wholesale decks that have sold and the few unsold decks, there are around 100 decks that haven't been sold. I will be setting up a sales page that includes links for you to find a deck for yourself, and also so that you can order any remaining decks in stock right here. Once these have sold out, your best bet would be to look for etsy stores that may carry them, or search eBay as I suspect that some decks will wind up for auction there. If you have an etsy store and want to have a link here, let me know.
There are still a dozen or so people who have backed the project at the one-deck reward level who haven't responded to the survey or the emails asking for a shipping address. If you are one of these people, contact me and once I verify your identity, I will ship you a deck.
If you are one of the project backers that donated money, but not enough for a reward, look for an email on or about November 14th – that will have a link to the card store before it goes "live" to the public, so you have first crack at buying a deck.
Where Are All of You?
I ran a quick analysis for fun on the mailing list for the single-deck reward, to find out where everyone lives.
Most of the backers live in the United States (close to 700 backers). The rest of the backers are in these countries (click to see entire chart):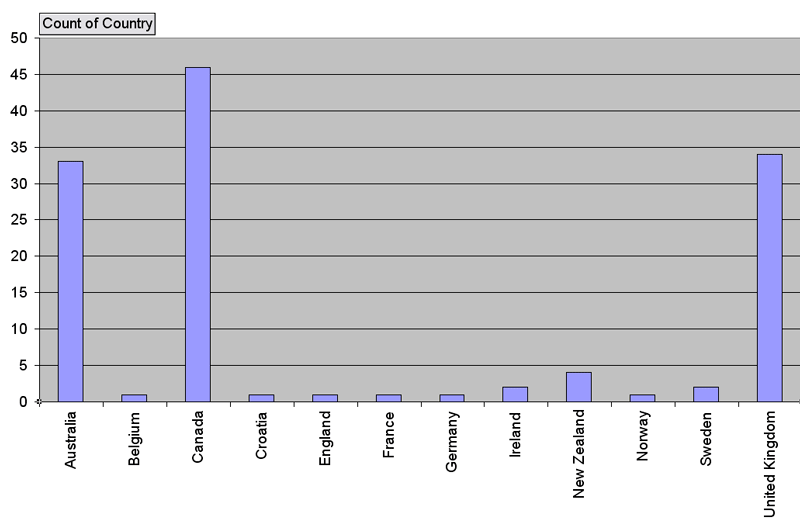 Inside the US, we have backers in every single state except North Dakota. I guess they don't have a sense of humor there. (click to see entire chart)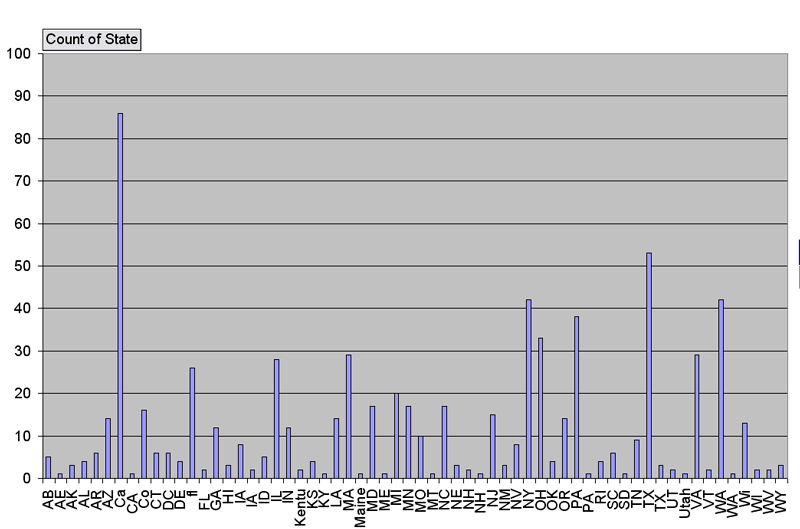 There are also some people living in the same building in a couple of places. I hope you guys know each other. If not, you should meet up.