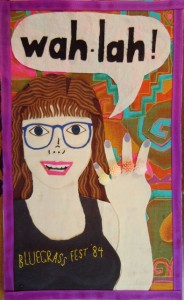 Hi Everyone!
Here's the artwork for my tarot card. It's layers of fabric, some embroidery and the ever present chrysanthemum cabochons.
This is basically the final piece, but I would like some input on the best way to get this from fabric art to useable digital document.
The piece is 9 inches x 15 inches, which is in proportion to the final size. I have a scanner and can scan it, but it would be scanned in 2 pieces and would need to be digitally "sewn" together. I also have a 12 MP digital camera, and could photograph it as well. I was wondering if anyone who has more experience with photo editing software than I do would be able to clean it up a bit in Photoshop or another software. I could probably do a little touching up myself, but am not that experienced in it and others would easily do a much better job than me.
Let me know what you think…
Thanks,
Danica